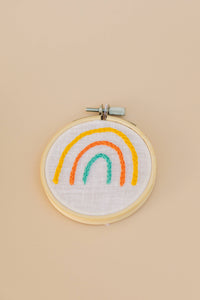 Our Rainbow Embroidery Hoop is beautifully embroidered by our refugee partner, Latifa! Each hoop was crafted by hand. A beautiful addition to any space!
Dimensions: 3-inch radius
About the Artisan:
Our vision is to see all people (regardless of gender, ethnicity, or geographical location) be afforded opportunities to have dignified and respectable work, to provide for their families and flourish in their communities. We want to see a universal growth in an understanding of the impact an individual can make with their time, resources, and talents.