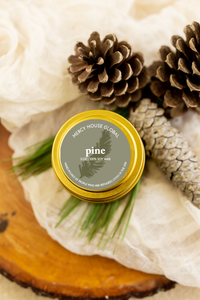 A beacon of wonder, nostalgia, and celebration -- Christmas trees have a special way of drawing us in, and making us feel hopeful and safe around feathery branches and sappy residue. This Pine candle encapsulates the perfect blend of fir balsam, hemlock, pine needles, Tonka, and sweet vanilla. Burn this candle in your home all season long and let the aroma of Christmas trees fill every room!
DETAILS:
Made by artisans who are refugees living in the USA 
100% Soy Wax 
3 oz 
Scent: Pine + Notes: Fir balsam, hemlock, pine needles, tonka, and sweet vanilla. 
Ingredients: Soy Wax + essential oil 
Disclaimer: After burning a soy wax candle, rough bumpy tops may appear due to the organic nature of the wax.
ARTISAN DETAILS
Ebtesam one of our skilled candle and soap makers, moved to the United States from Syria in December 2015. Ebtesam is a good person with a great work ethic.