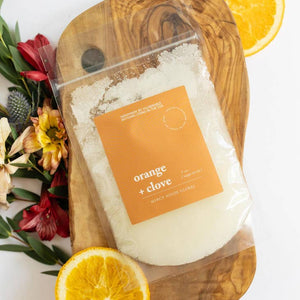 Treat your skin to our new orange + clove scrub! Not only does it exfoliate your skin and leave it feeling buttery soft, but it also smells amazing and creates a spa-like feel in the comfort of your home.
Details
Made by artisans who are refugees living in the USA

7 oz

Ingredients: white sugar, coconut oil, & orange + clove essential oil

After cleaning, massage scrub into skin. Avoid eyes, nose, and mouth. Rinse and pat dry.
Artisan Details
Sanu, one of our newest artisans is from the war-torn country of Bhutan. Sanu and her family were sent to a refugee camp in Nepal about 20 years ago for refuge. She came to the United States from the refugee camp in 2012 and lives in a refugee community in Houston. She is married with two beautiful children and is related to Sancha and Reunka, two other artisans here at Mercy House.