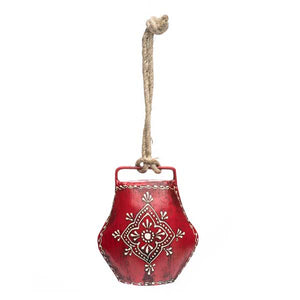 Delightful red bell crafted from upcycled metal with exquisite gold handpainted detail and jute hanging loop.
Details:
Our large red style measures 3.5" x 1.75" x 4.25". 
Upcycled metal
Hand painted
Made in India
About the Artisan Group:
As an environmentally friendly company, we work to improve their (the artisans') creative process. The goal is to eliminate artists' exposure to toxins, reduce water and fuel waste, and rely on natural/upcycled materials.
By supporting this artisan you are supporting:
• Safe work conditions
• Fair wages
• Education
• The confidence and well-being of our artisan partners
• No child labor
• Sustainable materials and trade practices