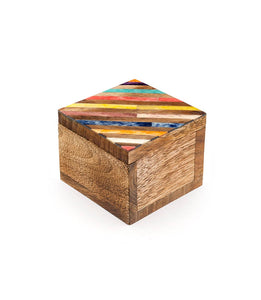 Our small Banka Mundi Keepsake Box incorporates traditional Indian art forms in modern designs featuring ethically sourced bone and sustainably harvested mango wood. Master artisans in Old Delhi skillfully hand carve wood and bone elements to create unique, eye catching inlay designs. This handcrafted keepsake box is thoughtfully designed for stylish safekeeping.
Details:
Dimensions: 3"L , 3"W , 2.5"H
Artisan Details:
Your purchase supports the livelihoods of artisans throughout India who have been handcrafting artisanal goods for generations. We proudly partner with women's groups, minorities, people with special needs, urban slums, and isolated rural communities to empower artisans through dignified employment.

Since 2006, customer purchases have made it possible for us to complete more than 50 important community development projects for artisan groups in India. This includes solar panel installations, water conservation initiatives, vocational workshops, and access to healthcare. Plus, we've built kilns to ensure safer production of goods.