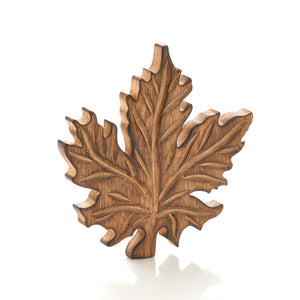 This festive maple leaf trivet is hand carved from sustainable mango wood, with details burned and etched to create a beautiful piece for your table.
Details:
Smooth back with no notch.
8"dia.
Care Instructions: Wash before first use. Hand wash using a soft sponge and mild soap. Do not soak pieces. Not dishwasher safe. Dry thoroughly, then let air dry overnight. To enhance the natural beauty of the wood, periodically rub with food-safe mineral oil.
ABOUT THE ARTISAN
Your purchase creates income and social reform for hundreds of artisans in Mumbai and other parts of India, as well as funding community improvement projects for their communities.