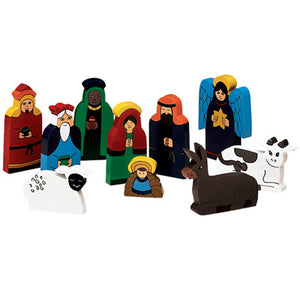 Vivid colors and lead-free paint make this a great hands-on wooden nativity set. Carved from alstonia wood. A popular handmade nativity set!
Details:
Dimensions: Tallest figure: 4"h,

10 pcs.

Made in Sri Lanka

Made from Alstonia wood
Artisan Details:
Your purchase helps artisans in Sri Lanka make a fair wage and support their communities through the creation of sustainably crafted wooden toys.