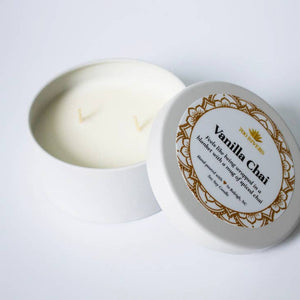 The Vanilla Chai candle feels like being wrapped up in a blanket with your favorite mug of spiced chai. Enjoy the notes of cardamom, ginger, clove, cinnamon, and nutmeg and feel the embrace of a cozy hug in a candle.
Product Details:
5 oz candle made from 100% super natural soy wax
Phthalate-free, paraben-free, and toxin-free
Eco-friendly, clean-burning, dual cotton wicks

Vegan
Hand poured in Raleigh, NC 
Candle Care
Trim wick to 1/4" before lighting each time 
Burn within sight
Allow your candle to burn for 2-3 hours to create a full and even melt pool
Do not burn candle for more than four hours at a time
Artisan Details:
Female run social enterprise
Candles are poured in Raleigh, NC and support the education of girls in Bangladesh by funding scholarships to keep girls in school. 

700 Rivers is a global, ethical, and sustainable lifestyle brand that creates all-natural products that allow us to be kind to ourselves, kind to others, and kind to our planet. Their mission is to create high-quality, eco-friendly products that employ women across the world who are guaranteed fair, living wages for their work, a safe work environment, and are treated with dignity and respect.